Virtual and in-person community cooking classes
Cook Well, Be Well is a cooking class series for adults age 16 and older. The hands-on series teaches the Mediterranean Diet Principles, cooking skills and the Model for Healthy Living—a life balance tool. Over the course of 4 weeks, participants will learn to become comfortable in the kitchen, build meals and flavor, stock a healthy pantry, and cook on a budget.
Cook Well, Be Well is the perfect class for all levels of cooks who want to: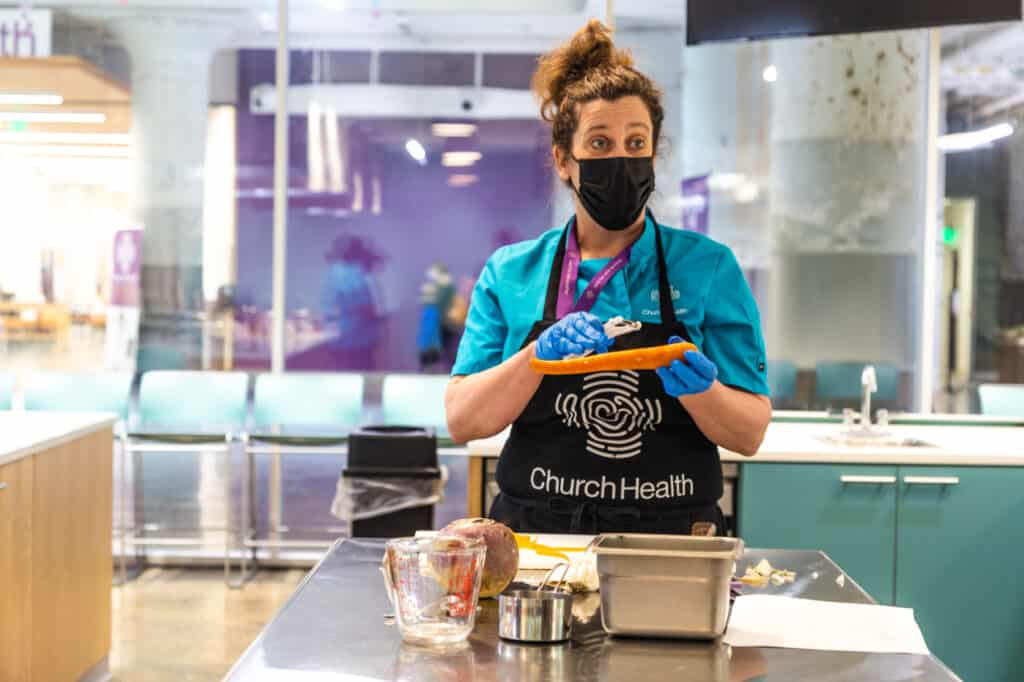 Class space in both virtual and In-person settings are limited to allow for better engagement online and safe social distancing in our Nutrition Hub at Crosstown Concourse. If interested in either session, please register by following the green button to get started. If classes are full, your contact info will be added to a waitlist. We will then contact you when a spot opens up or when we add more class sessions.
Wednesdays, 5:30 pm – 7:30 pm
Thursdays, 5:30 pm – 7:30 pm
Getting Comfortable in The Kitchen
Introduction, safety & sanitation, and knife skills
Basic meal preparation and essential cooking tools
Stocking a kitchen and building flavor
Using foods in season, batch cooking, and food storage
Meet Your Cooking Class Instructors
Frequently Asked Questions
Learn how Cook Well, Be Well works!
Cook Well, Be Well Registration
Before your Cook Well, Be Well Cooking Class series registration can be completed, we ask that you take this Pre-Survey to help our instructors better prepare for the class participant competencies.
The Nutrition Hub library is a resource for Cook Well, Be Well participants to continue to practice their healthier cooking skills using the recipes, handouts, and cooking skill videos provided.  Feel free to print the recipes and create your own recipe book and references.
Participants have access to the Nutrition Hub library for 3 months after completing the Cook Well, Be Well course (in-person or virtual).